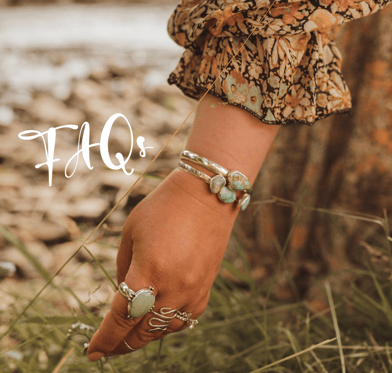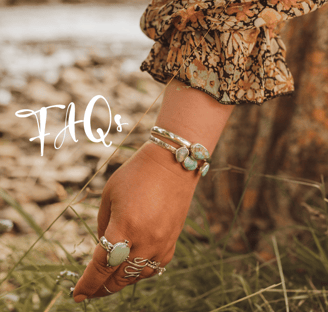 HOW CAN I PURCHASE?
I do not have an online shop and currently have no plans to open one. I enjoy participating in local maker markets and events and providing a fun, in-person shopping experience. I like for you to be able to touch things and try them on, to tell you all about the stones I use and the mines + regions they come from, and for you to know exactly what you're getting when you purchase from me - things that are not possible with online sales. I do, however, host seasonal sales via Instagram stories, and if you ever see something on my Instagram feed that you have to have (as long as it is not marked as "NFS" or "SOLD") send me a message and we can discuss how to make it yours!
DO YOU DO REPAIRS?
I do not repair or restore pieces that I did not create. If your Veridian piece is broken, damaged, or could use some extra TLC, please check out my Shop Policies in the next FAQ below.
WHAT ARE YOUR SHOP POLICIES?
All sales are final - no returns will be accepted, UNLESS there is an issue with quality. I go to great lengths to ensure that your pieces are built to last, however, I'm human + a one-woman show, and though rare, things can happen. If your piece should happen to break, PLEASE LET ME KNOW IMMEDIATELY. In circumstances where the damage is unrelated to owner abuse (broken chain, opened jump rings, etc.), I will repair or replace the item at no charge or accept a return for a refund. I will do whatever I can to make it right, always.
While my pieces are built to stand the test of time, they are not indestructible. If you're rough with your jewelry and do not follow the care instructions that I provide with every purchase (also listed here), I will not be able to accept a return. Depending on the severity of the damage, I may be able to repair it for a fee to cover any supplies used + my time. Please reach out to me (with pictures!) so that I can assess the damage and we can discuss our options.
Please make an informed decision before purchasing. BE CERTAIN OF YOUR RING SIZE (these ring sizers from Amazon are great!) and make sure you'll be comfortable with the chain length of the necklace you wish to purchase! I will not be able to accept returns if you've purchased the wrong ring size or had a change of heart post-sale.
Rings cannot be sized down. In some cases, they can be sized up slightly, however: please keep in mind that in order to stretch a ring band, it will need to be hammered. Hammering the band will add texture and destroy any existing hand-stamped patterns. If you'd like your ring to be sized up, you can stop by my table at an event and I will resize it for you at no charge. Different chain lengths can be purchased, but not exchanged. I'll always do whatever I can to keep my customers happy, so if you are in any way not satisfied with your purchase, PLEASE LET ME KNOW and we will work together to find a solution that's fair for both of us.
I am not responsible for lost or stolen shipments. I can insure your package for an additional fee - please let me know at the time of purchase if you'd like to have your package insured.
Please be kind to small business owners and reach out for resolution before leaving negative reviews that could hurt our businesses. We love our customers and will do whatever we can to make sure you're happy with us! :)
WHAT MATERIALS DO YOU WORK WITH?
I work with 925 sterling silver + 999 fine silver. I'm also very particular when it comes to sourcing the stones that I work with to ensure that they are genuine, high-quality, and ethically sourced. I purchase stones from a handful of trusted lapidary artists that are highly skilled in cutting and shaping the cabochons that I use in my work, and I love that I get to support their small businesses while creating pieces for mine. I LOVE sourcing stones to incorporate into my work + learning about the mines and regions they come from, so please feel free to ask questions about anything that catches your eye!
DO YOU HAVE ANY GOLD?
No. My business is called Veridian SILVER Co. for a reason. :)
DO YOU WANT TO DO A POP-UP/BE A VENDOR AT MY EVENT?
My 2023 schedule is completely booked, but please feel free to email me about any 2024 events!
WHAT PAYMENT METHODS DO YOU ACCEPT?
At in-person events (pop-ups and markets), I can accept cash (preferred), credit card, or Venmo. If you'd like to purchase something you've seen on my Instagram or from a story sale, I can accept payment via Venmo. For custom orders, I can accept payment via Venmo (preferred), or I can send an invoice via Square or PayPal. Unfortunately, I have been burned with personal checks, so I will not accept them as a form of payment moving forward - no exceptions.
CAN YOU MAKE ME A NECKLACE/BRACELET/RING WITH THIS STONE THAT I HAVE?
If it's a cabochon (a gemstone that has been cut and shaped by a lapidary artist with a domed top surface and a flat base to be set into jewelry) and my schedule will allow for custom work, sure! I do not do lapidary work and cannot reshape stones or work with anything that is not completely flat on one side though. For more info on custom orders and availability, please see the following FAQ.
DO YOU ACCEPT CUSTOM ORDERS? WHAT IS THE PROCESS?
My availability for custom orders is very limited (I have a full-time job in addition to preparing for/participating in events). You can always see whether I am accepting custom requests in my Instagram bio and in my custom order form.
During the small windows of time that I'm able to accept custom orders, please fill out my custom order form. I created this form to gain a clear understanding of your vision and work with you to bring it to life. Please do not send custom requests via Instagram DMs (they will get lost) or email. It is so much easier and cleaner to communicate about custom orders once the form has been completed.
When filling out the form, please provide as many details as possible. Feel free to include photos of my past work and/or sketches of your ideas in an accompanying email. I will only accept designs within my style and area of expertise, and will not accept requests to recreate another artist's design.
From there, I will contact you and we can talk specifics (stone shape/type/size, band sizes, chain lengths, design requests, etc.). If I am able to accommodate your request, I will send you a cost estimate. Once we've put together a plan, a nonrefundable 50% deposit is required to begin physically creating your piece. You can pay the deposit via Venmo, or I can send you an invoice through PayPal or Square.
The turnaround time is generally around 6 weeks, but can fluctuate depending on my workload. If I have to source stones or order materials to create your piece, this will also add to that time. I will be transparent with you about all of this during our discussions.
When your piece is complete, I will send photos of the finished product. Final payment will be due at this time (also via Venmo, PayPal, or Square) and once that is received, your piece will ship. I will send tracking information and you'll just have to hang tight for a couple more days until your custom piece is finally in your hands! If you're local to the Pittsburgh area, we can arrange a pickup (in Plum, PA) to avoid the shipping charges.
Disclaimer: If you cannot make your final payment within two weeks of your order's completion date, please let me know so that I can work with you to come up with a plan. If I do not hear from you and/or I do not receive your final payment within two weeks of notification, you are forfeiting your 50% deposit and your custom piece.
WILL YOUR JEWELRY "TURN"?
If by "turn" you mean "tarnish": All sterling silver jewelry will tarnish over time if left out and exposed to open air - this is natural. The good news is that in most cases, it's very easy to remove tarnish. It can usually be wiped away with a polishing cloth (included with every Veridian purchase) to brighten your jewelry right back up to its original state of shine. Even heavy tarnish can be removed with a little TLC. I also have anti-tarnish pouches available for purchase at my table at all events. If you'd like one and are not local, send me a message! For some tips on preventing and removing tarnish, visit my silver care page.
If by "turn" you mean "rust": No. Silver does not rust.
If by "turn" you mean "turn your fingers green": In most cases, no, but this depends on your skin's chemistry. Silver is a high-quality metal that will not cause irritation or discoloration unless you have an existing allergy to it.
WANNA COLLAB?
You know I do, but with my current workload (with both my full-time job and this passion project) I'm finding it really hard to take on anything extra. Please feel free to run your ideas by me via DM or email, but understand that my schedule will most likely not allow for extra metalsmithing on my part. Creating this kind of art is such a slooooooowww and intentional process, and I wouldn't want to compromise quality to make a collab happen.
DO YOU WHOLESALE?
Not at this time.