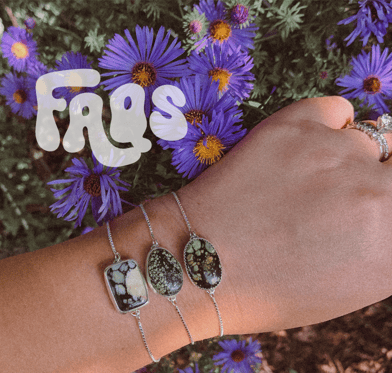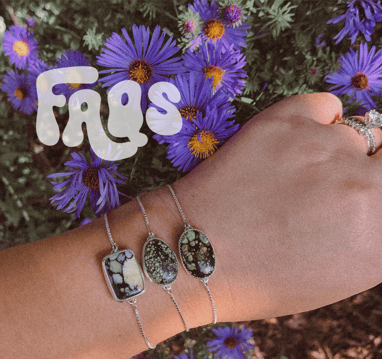 HOW CAN I PURCHASE?
I do not have an online shop and currently have no plans to open one. I enjoy participating in local maker markets and events and providing a fun, in-person shopping experience. I like to give hugs to new friends, let you touch and try things on, and talk about rocks with you! I also like for you to know exactly what you're getting when you purchase from me - something that is not possible with online sales. I do, however, host occasional sales via Instagram stories. If you ever see something on my Instagram feed that you have to have (as long as it is not marked as "NFS" or "SOLD") send me a message and we can discuss options to make it yours!
DO YOU DO REPAIRS?
I do not repair/restore pieces that I did not create. I build my pieces to last with proper care, but if your Veridian piece could use some love, please send me a message and I will be happy to help you restore it at no charge. I only ask that you cover the shipping charges or drop it off/pick it up.
WHAT MATERIALS DO YOU WORK WITH?
I work with 925 sterling silver + 999 fine silver. I'm also very particular when it comes to sourcing the stones that I work with to ensure that they are genuine, high-quality, and ethically sourced. I purchase stones from a handful of lapidary artists that are highly skilled in cutting and shaping the cabochons that I use in my work, and I love that I get to support their small businesses in creating pieces for mine. I've become a major turquoise nerd and LOVE sourcing stones to incorporate into my work + learning about the mines and regions they come from, so please feel free to ask questions about anything that catches your eye!
DO YOU HAVE ANY GOLD?
No. My business name is Veridian SILVER Co. for a reason. :)
DO YOU ACCEPT CUSTOM ORDERS? WHAT IS THE PROCESS?
My availability for custom orders is very limited (I have a full-time job in addition to preparing for/participating in events). You can always see whether I am accepting custom requests in my Instagram bio and in my custom order form.
During the windows of time that I'm able to accept custom orders, please fill out my custom order form. I created this form to gain a clear understanding of your vision and work with you to bring it to life. Please do not send custom requests via Instagram DMs (they will get lost) or email. It is so much easier and cleaner to communicate about custom orders once the form has been completed.
When filling out the form, please provide as many details as possible. Feel free to include photos of my past work and/or sketches of your ideas in an accompanying email with the subject "FIRST & LAST NAME CUSTOM REQUEST". I will only accept designs within my style and area of expertise, and will not accept requests to recreate another artist's design.
From there, I will contact you and we can talk specifics (stone shape/type/size, band sizes, chain lengths, design requests, etc.). If I am able to accommodate your request, I will send you a cost estimate. Once we've put together a plan, a 50% deposit is required to begin physically creating your piece.
The turnaround time is generally around 6 weeks, but can fluctuate depending on my workload. If I have to order materials to create your piece, this will also add to that time. I will be transparent with you about all of this during our discussions.
When your piece is complete, I will send photos of the finished product. Final payment will be due at this time, and once that is received, your piece will ship. I will send tracking information and you'll just have to hang tight for a couple more days until your custom piece is finally in your hands! If you're local to the Pittsburgh area, we can arrange a pickup to avoid the shipping charges.
Disclaimer: If you cannot make your final payment within two weeks of your order's completion date, please let me know so that I can work with you to come up with a plan. If I do not hear from you and/or I do not receive your final payment within two weeks of notification, you are forfeiting your 50% deposit and your custom piece.
WILL YOUR JEWELRY "TURN"?
If by "turn" you mean "tarnish": It can over time if left out and exposed to open air, but not to the point of no return. In most cases, tarnish can be easily wiped away with a polishing cloth (included with every Veridian purchase), to brighten it right back up to its original state. Even heavy tarnish can be removed with a little TLC. For some tips on preventing and removing tarnish, visit my silver care page.
If by "turn" you mean "rust": No. Silver does not rust.
If by "turn" you mean "turn your fingers green": In most cases, no, but this depends on your skin's chemistry. Silver is a high-quality metal that will not cause irritation unless you have an existing allergy to it.
WANNA COLLAB?
You know I do, but with my current workload (with both my full-time job and this passion project) I'm finding it really hard to take on anything extra. Please feel free to run your ideas by me via DM or email, but understand that my schedule will most likely not allow for extra metalsmithing on my part. Creating this kind of art is such a slooooooowww, intentional process and I wouldn't want to compromise quality to make a collab happen.
DO YOU WHOLESALE?
If it's a good fit, I'd love to! Please email me at veridiansilverco@gmail.com to discuss!